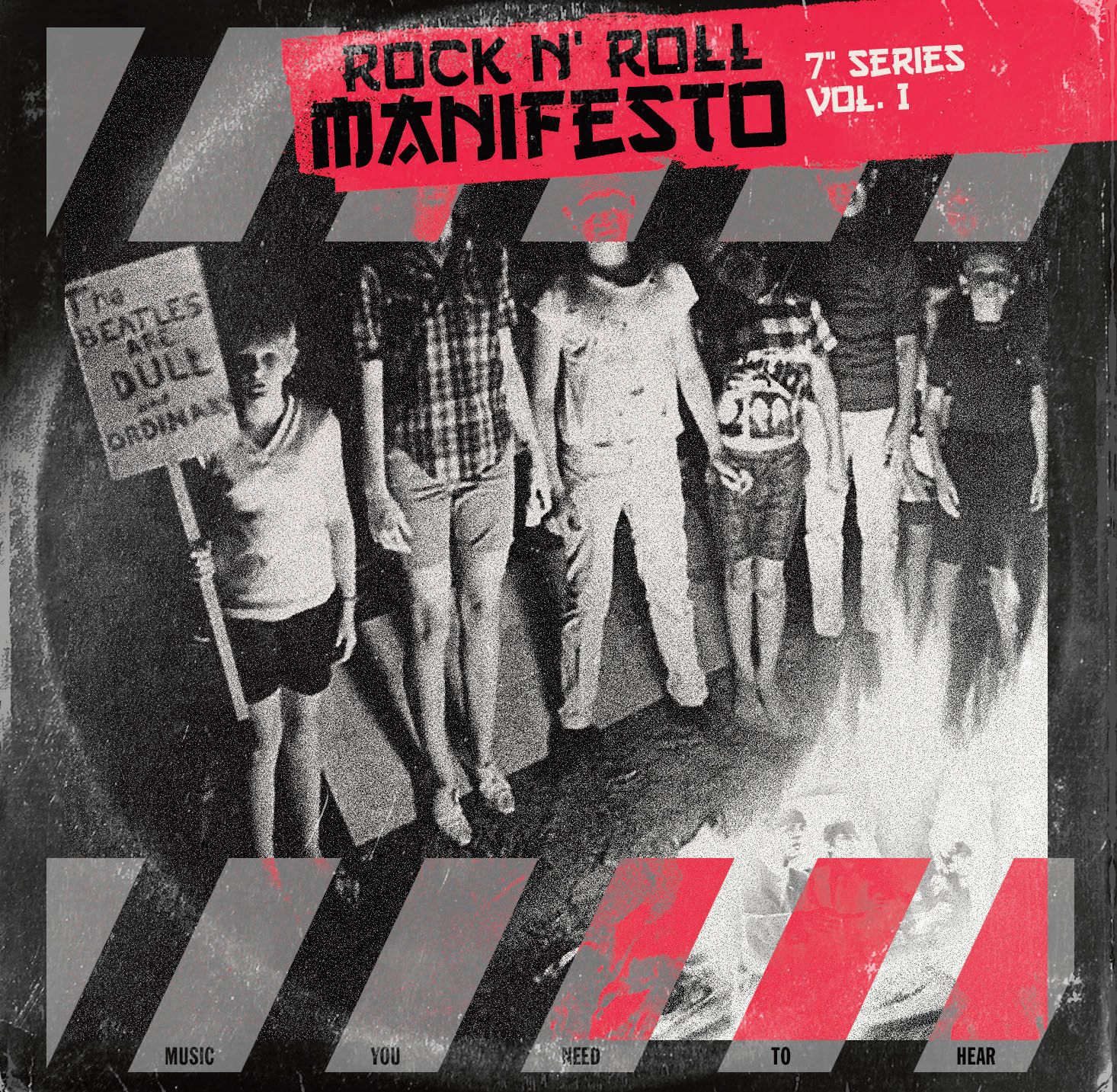 Maximum Rock and Roll 
One cut each by TIGER TOUCH, FRET RATTLES, JJ AND THE REAL JERKS, and MISSILE STUDS. This 7" appears to be the first in a series of records we can expect from the Stamp Out Disco label, a name that is presumably a tip of the hat to RAZAR and their classic tune. This one features four real rockers. All are certainly punk, but each also clearly draws from their rock'n'roll roots. The one thing that I think they've all got in common is that they're straightforward, melodic, and pretty catchy. Each of the four tracks is worthwhile, and to find them on a single slab of vinyl is a treat. This really is an excellent record. 
Faster and Louder 
Hey rockers! I've got something really special for you today! You are probably familiar with Rock N Roll Manifesto - the long running radio show which runs Wednesday nights on Real Punk Radio. For now over 500 episodes, Greg Lonesome has been championing the best new punk & rock and roll bands out there (as well as many of my favorite Central PA breweries, but I digress!). He recently teamed up with Sydney-based label Stamp Out Disco to release his first-ever 7" record. Rock N Roll Manifesto 7" Series Vol. 1 is the first in what is intended to be an on-going series of killer compilation records. And what a way to start! Volume 1 features four of the top bands from today's garage/punk/rock and roll universe - several of which I have featured on this blog before. The lineup includes the powerhouse proto punk rock and roll of Portland, Oregon's Tiger Touch, the Detroit rock inspired fury of Minneapolis's mighty Fret Rattles, the sleazy punk rock and roll of L.A.'s JJ & The Real Jerks, and the snotty '77-style punk rock of Adelaide, Australia's Missile Studs. All four tracks are exclusive to this release and have never been issued on vinyl before. Just as importantly, all four of these tracks are absolute rippers. This isn't your usual comp where bands contribute whatever leftover songs they had lying around. I'm especially partial to the Tiger Touch track "Problems", which just about blew my head off. And The Missile Studs' track "Spazz Out" does nothing to diminish this group's standing as one of my favorite new punk bands. It has had me pogo dancing all over the house! 
What I love about this first volume of the Rock N Roll Manifesto  7" series is that it shines attention on a cool radio show, a great record label, and four amazing bands. The record comes in a full-color package designed by Rob Sheley. It's limited to 500 copies on three colors of vinyl (opaque red, bone and black), with a lyric insert. It officially releases on September 1st. You can order now from the Stamp Out Disco Bandcamp. You can also hit up these bands individually to order a record - which will help them make their money back. If you are not yet familiar with these bands, I highly recommend checking out their back catalogs via the links below. And for more information about Rock N Roll Manifesto, head on over to the show's web site! 
Uber Rock UK 
If you're looking for a perfectly curated punk rock ripper then look no further! 
'Rock N' Roll Manifesto 7" Series Vol 1' is nine minutes of pedal to the metal underground greatness. The Rock N' Roll Radio Show has been taking over the airwaves thanks to Greg Lonesome for several years and he's putting together a 7" series of all the bands you need to hear! '…Volume 1' consists of hits from Tiger Touch, Fret Rattles, JJ & the Real Jerks and Missile Studs. So, let's stage dive right into this one! 
Tiger Touch are a high-voltage rock band from Portland, Oregon and an excellent way to kick off this series! 'Problems' comes in hot with its driving rhythms and crunchy riffs setting the tone for what's to come. 
Next up is the unbeatable 'Thanks For Nothing' by the Fret Rattles. With decades of experience from all over the punk rock scene, they're bound to be your new favorite! The intensity doesn't stop here, though! JJ and the Real Jerks hit us with 'Split Decision', which is infused with killer saxophone playing that adds a whole new dimension to their sound! 
RazorCake 
Curated by Real Punk Radio's Greg Lonesome, this four-band throwdown kicks off with Tiger Touch, whose guitar-heavy, cowbell-laced chug makes me wonder if the plotline of this particular manifesto was not liberally adapted from the Sympathy For The Record Industry catalog circa thirty years ago. The Twin Cities' Fret Rattles are always a blast (fairly literally, a blast) live; although their sound is grounded in a madly amped-up version of basic MC5-styled rock'n'roll, they have this subtle white noise aspect to them (inasmuch as a "white noise aspect" can be said to be "subtle") that brings to mind really early Hüsker Dü (although I "grant" [heh] that I may merely be assigning them to a senseless granfalloon. Still, who's complaining?). J.J. & The Real Jerks manage to differentiate themselves from the two previous bands by adding brief harmonies and a saxophone solo to their song about boxing, and the Missile Studs emit a thorny dollop of that snotty punk that was all the rage on labels like Pelado and Dead Beat about twenty years ago. One thing's for certain: This is certainly a much louder (and more engaging) manifesto than The Communist Manifesto, which was just about factories and farms and crap and wasn't very loud at all. Rockers of the world, unite! BEST SONG & SONG TITLE: Missile Studs, "Spazz Out." FANTASTIC AMAZING TRIVIA FACT: Comes on "Super Limited Black, Blood Red, or Bone White" vinyl. What, no ecru? –Rev. Nørb (Stamp Out Disco, stampoutdisco.com) 
Fear and Loathing Fanzine 
V/A. Rock'n'Roll Manifesto Vol 1. EP (Stamp Out Disco) Rock'n'Roll Manifesto is a long-running radio show on the East Coast, USA, run by Greg Lonesome. He's been a champion for underground punk and rock'n'roll bands for over 500 episodes and now, in association with the Aussie label Stamp Out Disco, he's instigated a series of compilation EPs that will feature some of the best high velocity bands currently emerging from their garages. First off is Tiger Touch from Portland, Oregon with 'Problems', not the Pistols song but an original delivered like a mix between early Seventies Glam and snotty 1977 punk attitude… at less than 90 seconds long, it's perfect! Fret Rattles, from Minneapolis, take a direction that's somewhere in between (early) Saints and possibly even Poison Idea (circa 'Plastic Bomb.) Flip over to side two and the vinyl blasts off with JJ & the Real Jerks (you mean there are fake jerks out there?) These guys are from Los Angeles, but recall those great early records by New Bomb Turks, adding their own mark with a Sax-break that rips through the middle of the song. Finally, the Missile Studs add their offering, 'Spazz Out', the only Australian band on this EP but staking their claim with very good reason. Fast, frantic and catchy, sorta like Modern Action or the Control Freaks. Basically, this whole EP is going to test your stereo to its' limits and leave you desperately trying to catch your breath. Limited to just 500 copies, stop reading this and buy yourself a copy before you miss-out! 
RPM Online 
Rock N Roll Manifesto Split  '7″ Series Vol. 1' (Self Release)  We love a split single round here and when it has some of our favourite artists on that we've reviewed many times before it is always a pleasure so when this one dropped from down under and JJ & The Real Jerks popped up we knew we were in a good spot. Pressed on three different coloured slabs of wax this is a bargain we knew we had to tell you about. 
Tiger Touch is first out of the traps with a right banger. 'Problems' is all up in your face poking and jabbing with that nasty guitar hook and a vocal that's not pausing for breath until it's finished whatever the fuck it wants to say.  What a great tune to kick this split off.  Oh if you're not convinced how about Fret Rattles and their 'Thanks For Nothing' with its super snotty garage, frantic dash to the solo punk rock.  Hip Priests fans will have to check these bad boys out because they might have a new champion stateside. Then halfway through our old pal JJ & The Real Jerks are back in town with a right high octane blast of energy in the shape of 'Split Decision' complete with JJ blowing that mean Saxophone solo to raise the bar a little bit more.  Excellent stuff and to take this sucker home how about the punk fueled Missile Studs wrap this awesome EP up like a wrecking ball.  We featured their split a few weeks back they did with Thee Evil Twin. They're Straight outta shitville USA and are on fire, this is the fourth awesome track on an EP that is unrelenting and reeking with quality. If you love loud fired up Rock and Roll you're gonna want this in your collection no doubt about it. Pick It Up Here